I'm saying ' a thing that makes my skin sing #1' because I know somewhere along the lines of my life there is bound to be another…
I'm currently sitting in bed, this is a complete spur-of-the-moment post, straight after taking my usual nightly routine I had a thought, that I wouldn't be able to sleep unless I do this, well, maybe I would, I don't know, you decide.   What am I talking about? I don't know really, it's been a long day and I've got my tired head on.
My Skin: The Early Days
I used to continuously have this state of mind right before I fell asleep fully. This mindset would only ever be when I stayed at my nonna's (grandma in Italian). I would close my eyes trying to sleep, but I couldn't, and I used to have these visuals in my head of a really angelic face, that would transform into a really demonic face, with scribbles all over the face, like it was wrapped in thorns, it would really haunt me and no matter what I did I could never shift it from my mind.
Anyway, the angel bit, that is literally what my skin looked like in the mirror, I'm not saying I'm beautiful and bigging myself up or anything, but honestly, my skin just feels like satin, or velvet, or both! I've put my Nivea night cream on so it feels like satin now.
What makes my skin sing? No.7!
I'm not sure if it was the fact that I dried my face on my Nonna's old towel that made me feel like this. Nevertheless, I don't really care if it did. I'm happy to be using the towel because my nonna passed away 6 years ago. It was nice to use it again, but I don't feel it has any significance. I just hope I don't get those visions again tonight!
Okay, okay, so the product was 'Beautiful Skin Radiance Exfoliator for Dry/Normal Skin' by No.7. I've been using this for quite a while, and it's probably got less than a day left in it now. I'll be sure to purchase it again! I would recommend this to anyone, seriously! I remember buying this. It was when I used one of the Boots £5 off vouchers for No7. It only ended up costing me £3.99! Bargain if you ask me!  Anyway, I'll leave you with a little picture, so you can go buy it if you like 🙂   xxx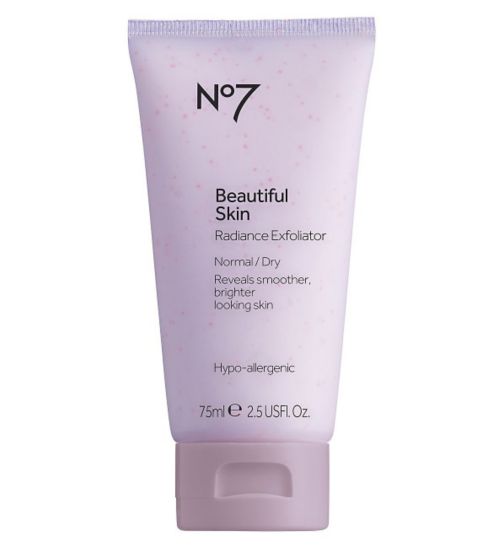 Photo Credit: Boots This is not a sponsored post.